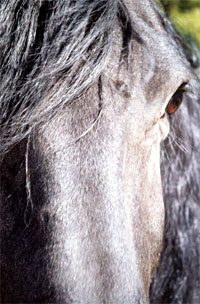 When you think of the majestic, powerful knight's horse, it conjures images of loyal, tall, dark, gorgeous black horses with thick necks and long streaming manes and tails. Jouke (U-Ka) is his name! Our big black beauty has finally come to join us.
The Friesian breed has always fascinated me and for two years I studied the website of Janna and Ron Goldmans Black Sterling Friesians sale barn in Sonoma County. And it was two years ago, that we were invited to come up and meet them first hand. The Goldmans were very generous in allowing us to be there anytime we wanted to really study the different "horse-onalities" as I call them. And fall in love we did!
Jouke had arrived just a few days before we came to the barn. In our first breathing together his heart dropped into mine. His sensitivity and deep listening reached through the bars and around me like a safe and warm mantle.
Thomas and I spent several weeks coming up and getting to know him. We seriously looked to see how we could have this amazing horse. As I reached for the phone to call Janna to say, "Yes, we'll take him." I received a loud, "No!" inside. He was sold within two hours after that to a great woman in the east bay. We knew he was going to a good home, which helped, but it never left us as something greatly missing. It just wasn't the right timing.
Seventeen months later, a new horse friend was mentioning about "this Friesian" that was for sale and that he might be great as a F.E.E.L.™ horse, having just heard of our vision for a teaching facility. I asked, "Is this Jouke?" And she said, "Yes, how'd you know?" I just knew.
Our new friend was his trainer all these many months. We had no idea they were connected. And as with all relationships that are meant to be, we said, yes and did not let him go a second time.
It was a leap of faith to get any horse before we had our teaching ranch facility. I had vowed after my past horses 21 years ago that I would not board a horse again. I guess some vows need to be broken. I have no regrets.
Jouke is strong, highly intelligent, ultra-sensitive, curious, playful, deeply loving and very social. He blows away everyone with his huge energy field of loving-kindness. Jouke is an ideal teacher and healer.
Right now I have promised him he gets to just be a horse and get used to the world around him. This means lots of hours just hanging out and playing games on the ground.
In Holland, Jouke was part of a driving team where he wore blinders, so he's getting used to seeing things around him. Some call it "bomb-proofing," I like to call it, "trusting and being safe in the world" ground-working.
He loves the challenges I give him to build his confidence. And, even though, some things scare him, he comes right back to try again. He loves the mastery. I do most of this work at liberty with no halter so he gets a choice and a say in all we do.
We shower him with praise and he raises his head then sighs and licks and chews. He is learning so fast, integrating and building from one session to the next. We are thoroughly grateful and in love with our beauty boy.